News & Blog
Wrestling Sisters place in ANC
Posted on April 12, 2012 , by junowebdesign
Until his daughters became interested in the sport, Brent Harvey had no real clue about wrestling.
Now, both of his daughters, Brittany, a junior and Brook and Freshman, wrestle for the Brighton High School Boys varsity wrestling team. They are a competitive duo and their father has founded a women's wrestling team in Michigan, which teaches girls about freestyle wrestling and how to compete.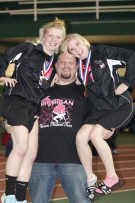 The team gets to travel across the USA and attend Girls Tournaments. Both Harvey sisters recently places in the US Girls Wrestling Association National Championships at Eastern Michigan University.
Brook placed 7th and Brittany placed 4th.
"I just love it," Brittany said about wrestling. "It's part of our lives. If we didn't have it I don't know what we'd do. I feel like we'd be lost. I love practicing. Competition is really nerve wracking for me, that's something I struggle with. But I love practices."
Brittany  want to continue with the sport after she has finished High School and is looking at a range of colleges which offer women's wrestling programmes.
Brook on the other hand is not too sure yet, she's just enjoying her success.
"For Brighton, we're working more as a team for the good of the team," she said. "For the girls, we're a team, but we're doing it for ourselves. If you can go to a tournament, you should."
The girls are training hard to prepare themselves for next months tournaments. It just shows that women can be equally successful in the world of wrestling and again, it commands dedication, strength not just physically but mentally!
All the best to the Harvey girls from My Wrestling Room.