News & Blog
Wrestling Shoes Asics
Posted on January 3, 2013 , by wrestling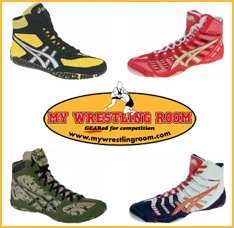 Wrestling shoes Asics are known to be comfortable, reliable, and affordable. The anima sana in corpore sano "a healthy soul in a healthy body" motto that forms the acronym ASICS also informs their corporate goals; and they meet these goals, providing millions of shoes to athletes and active individuals worldwide. Asics is at the forefront when it comes to wrestling shoes. Their top selling shoes include the Omniflex Pursuit, Dan Gable Ultimate II, Asics Aggressor among many more, all of which can be found in the "Wrestling shoes Asics" section of the mywrestlingroom.com website.
Asics wrestling shoes are engineered from the ground up. The design team starts with high-tech fabrics and designs that maximize strength, flexibility, and breathability. This trifecta is vitally important for any wrestler seeking the most out of his (or her) shoes. Strong, engineered fibers ensure that the shoe doesn't rip or tear during intense workouts. Flexibility means that the structural component gives enough to allow the wrestler full range of motion during matches and especially scrambles. Asics constantly searches for more and more breathable fabrics, so that a wrestler's feet do not overheat in the middle of a big match, causing fatigue.
Wrestling Shoes - Asics and Many More Online
Asics wrestling shoes are great for any wrestler: big or small, experienced or new to the sport. Wrestling shoes are an important signal of any young man's (or young woman's) commitment to the sport. At mywrestlingroom.com, we are devoted to providing the best shoes and equipment for the world's oldest sport. Better yet, we are committed to offering wrestling gear at the lowest possible price. Drop by mywrestlingroom.com today and check out the newest versions of the all the best Asics wrestling shoes online.