News & Blog
Asics Wrestling Shoes
Posted on August 25, 2012 , by wrestling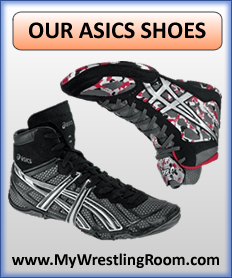 Asics has been in the wrestling shoe game for over five decades, since 1958. Asics wrestling shoes are high quality and always in style. Originating in Kobe, Japan, Asics is now an international force in the footwear industry. The company mantra is "anima sana in corpore sano," a Latin phrase that translates to "a sound mind in a sound body". In fact, their name is derived from the acronym for this phrase - ASICS. Asics shoes are a reflection of this ideal, aiding athletes across the world in their physical activities. Their tic-tac emblem has become synonymous with quality, practicality, and comfort.
At mywrestlingroom.com we stock all kinds of Asics Wrestling Shoes
Asics has evolved from its humble beginnings as Onitsuka Co. into one of the largest producers of athletic footwear in the world. They produce all kinds of athletic gear for tennis, track, golf, volleyball, soccer, lacrosse, field hockey, and (of course) wrestling. Asics is one of the two main suppliers of wrestling shoes in the world. Asics wrestling shoes are renowned for their slick design, rugged grip, and breathability. Wrestlers across the globe opt to don the tic-tac insignia because of the consistent quality that Asics brings to the table.
At mywrestlingroom.com, we offer Asics wrestling shoes in a variety of styles and colors. For beginners we recommend the Aggressor, Split Second, Matflex, or Cael 4.0 , but wrestlers of all ages opt for the more specialized Lyteflex or Dan Gable Ultimate. Wrestling shoes tend to run about a half size smaller than conventional sneakers. It is important to tuck laces into the lace guard present in most Asics styles, as this can prevent serious injury. Remember, mywrestlingroom.com has a huge selection of wrestling shoes and other Asics apparel at the lowest prices on the net. It is quick and easy, so stop in today and you will be equipped for the mat in no time.