News & Blog
USA: Third Place in Freestyle World Cup
Posted on May 17, 2012 , by junowebdesign
In the wake of the last Olympic qualification event, all eyes are on a summer jam packed with wrestling action. However, for many of the athletes keen to be hitting the London Games, there's still a lot to think about.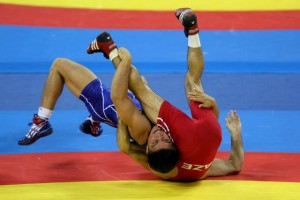 This week has seen the US team have a strong finish in the Freestyle World Cup, an encouraging result ahead of the Olympics. Drawn in pool B against Iran, Georgia, Japan and Turkey, there was some strong competition. However, the US team included five 2012 Olympiads as well as one Olympic Team Trials Champion, so Team USA was always going to be a competitor.
This is the second biggest competition of the year for many of these athletes. National Freestyle Coach Zeke Jones commented, 'We brought a team here to win, nothing else.' Finishing in third place, the US team had a strong record 4-1, beating out Russia in the third place match with a solid 5-2 victory. This is particularly encouraging, and really shows the talent and progress that the team has made.
Assistant National Freestyle Coach Brandon Slay stated, 'Three years ago we were losing to this Russian team, but we have clearly progressed and once again established Team USA as one of the very top teams in the world.' Unbeaten in their classes were Coleman Scott at 60kg, Jordan Burroughs at 74kg and Tervel Dlagnev at 120kg. They were all individual World Champions, which definitely provided fuel and motivation for the whole team.
Iran beat Azerbaijan to lift the World Cup – however, Iran beat the US Team by only a slim margin during the fourth round pool competition. This is a gap that can be closed before the Olympics. With such a promising showing in the World Cup, we can't wait to see what the team can achieve in London.