News & Blog
Time to take them down
Posted on March 13, 2012 , by junowebdesign
Generally when you step up on the mat and face your opponent, wrestling matches can be over in a flash, or still going minutes down the line.
Today the My Wrestling Room Team take at a look at the longest wrestling match ever held.
During the Summer Olympics of 1912 - 100 years ago, 28 nations competed for gold, silver and bronze medals in Stockholm, which was the only country to put themselves forward to host the event and since then has been the only time that the Olympics have been held in Sweden.
This particular Olympic event introduced some of the methods in which we run the games today, for instance, electric timing was introduced into the Athletics. Womens swimming and diving events were introduced and at 25 the USA won the most gold medals where Sweden won most over all at 65.
It was the final Olympics that would see pure gold medals.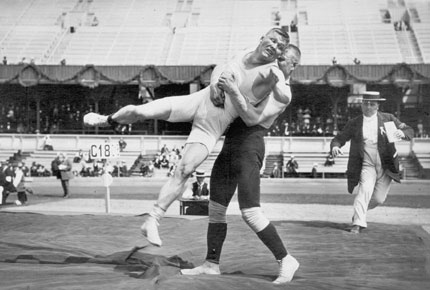 One of the highlights for those wrestling fans, was the longest recorded Greco- Roman wrestling match, between Martin Klein and Alfred Asikainan. This match went on for a record breaking 11 hours and 40 minutes, finally when Klein took the victory, he was too tired to fight in the final, which meant Johnasson (the other wrestler which made the final three) ended up as the gold medalist.
It really was the starting point of some great introductions of different sports and events and some real notable achievements. The oldest man to win a gold medal was also present at the 1912 Olympics.
As the countdown to London 2012 continues and the event gets closer, we are all incredibly excited about the wrestling event and of course other sporting events.
Lets hope this year brings some interesting news and maybe some record breaking achievements for all those athletes involved!