News & Blog
Summer Camps for Young Female Wrestlers
Posted on May 8, 2012 , by junowebdesign
If you're looking for a way to improve your wrestling over the summer, then going to a wrestling camp is a great way to spend your time. If you're female and looking for a way to get ahead in the sport, then the Women's Wrestling All-National Camps are a fantastic opportunity.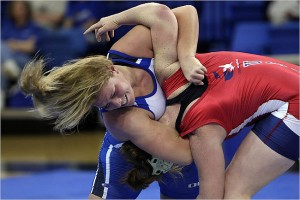 Taking place in the second and third week of June, these three day camps give access to all the best wrestling training, advice and technical tips. They are open to all young female wrestlers looking to improve their skills.
There are camps held in Lock Haven, Pennsylvania; King College, Tennessee and Plainview, Texas. These locations have been specially picked to give as many young competitors the opportunity to attend. While they still might be a bit of a journey away, they will definitely be worth the trip.
With the Olympics the big news of the moment, it's especially exciting that Kelsey Campbell, newly qualified 2012 Olympiad, will be at the Lock Haven camp. She will be there to take part in the clinics and workshops, letting young wrestlers get some real advice from one of the current top female wrestlers.
Over the three days of the camps, there will be three sessions a day covering technique, mat strategies, nutrition, mental preparation and much more. Having such a concentrated boost to your wrestling could only be inspiring.
Not only this, but you'll be spending the time with other wrestlers who are just as passionate about the sport. Getting to know other young wrestlers is a great way to share tips, experiences and of course, enjoy your camp experience.
You know your money will be well spent, as not only will you get access to the best instruction and seminars, but all funds raised get put back into the sport. Half will go to local organisations, such as state and college wrestling programmes, and the remaining funds will help Junior and Cadet women's' programmes.
If you're looking for a wrestling fix this June, then don't miss these great opportunities.