News & Blog
Olympic hope for Penn Grad
Posted on February 6, 2012 , by junowebdesign
Sarah Hildebrant dreamt of being part of the Olympics and it looks like this dream may become a reality, as Sarah has been invited to try out for the Olympic Women's Wrestling team. April 21-22 will see the U.S. squad trialing for the Olympic team at the University of Iowa.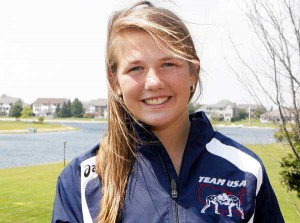 "It's still sinking in. I don't know what to think. But absolutely, you better believe I'm going to be there," said Hildebrant, who is a freshman at King College in Tennessee.
Hildebrant has a great sporting history and has achieved much in her young years. She was the first female in Indiana history to qualify for a semi-state tournament and last February, she became the first female to wrestle and win a team state tournament.
The wrestling classes and weight categories at the London 2012 Olympics will be reduced to four for the freestyle event, so as you can imagine, competition is fierce.
Due to the backing and sponsors of colleges and universities, there are many talented female wrestlers who are missed, due to the fact that their place of education may not be recognized as a center of excellence for wrestling and these wrestlers are  not brought up for trials, but luckily Hildebrant as picked and personally invited.
There is great excitement around these new talented wrestlers and not just the males, it is great to see a broad representation of both male and female wrestlers.
We hope the Olympic trials go well for Sarah Hildebrant and all those young wrestlers, the team at My Wrestling Room are fully backing our great guys and girls, it would be great to see some of our wrestlers bringing back some gold medals for this fantastic sport.
It won't be long until the opening ceremony, in fact the 27th of July is only 172 days to go.