News & Blog
New Wrestling Shoe Colors
Posted on July 24, 2012 , by chris
Thoughts on New Wrestling Shoe Colors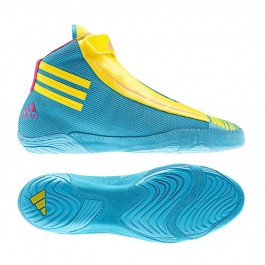 With another wrestling season past and another one fast approaching, wrestling shoe manufactures are hurrying to get their new shoes on the market. This year there are many new shoes as well as improvements on past wrestling shoes. These  new and improved shoes feature many new colors, styles, and designs. It will be very interesting to see which shoes are the most popular considering that there are new, never before seen color schemes such as the pink Split Second 9 Wrestling Shoes by Asics. Not only is this wrestling shoe offered in pink, but it also comes in a wide variety of bold colors.  New color schemes for this year also are the cyan lemom Adidias adiZERO Sydney wrestling shoe. This wrestling shoe was originally created for the 2000 Olympics, but have since been reconstructed to offer a better fit and structure. It is very impressive that Adidias was able to make drastic improvements to the shoe without compromising the original look and style.  For some wrestlers these  new color schemes will be too bold and flashy but for others it is just what they have been hoping for. What is your favorite new wrestling shoe and which do you think will be the most popular?
Traditional Color Wrestling Shoe for the Olympics
With the Olympics this year, Adidas added a new wrestling shoe to their already impressive collection specifically for the 2012 Olympics. This shoe is the AdiZero London wrestling shoe. It features a new concept that Adidas dubbed the double flex london outsole. This outsole drastically increases the stability and grip of the shoe for maximum traction on the mats. They shoe is offered in a red/white color scheme. While it is not as exotics as many of the other new colors that Adidas offers, the color is timeless and was created to stay in style for many years.