News & Blog
Getting Your Head around Headgear
Posted on May 25, 2012 , by junowebdesign
Headgear is one of the most important bits of kit for any wrestler. It's required for all folkstyle competitions at scholastic and collegiate levels, and for good reason. Headgear, or ear guards, will protect injuries to your ears and head – but how do you make sure to get the right one for you and your style?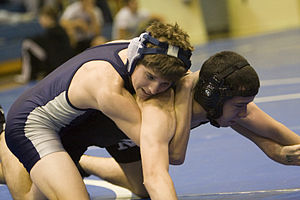 Good Fit
Normally headgear comes in two basic sizes, adult and youth. You get a more personalised fit by adjusting the straps on the back and top of your head. So long as you can adjust the straps, don't worry too much about the size on the label – just make sure you take a minute to adjust your headgear to stop it sliding about.
Material
Material is most important when it comes to the shell – the bit that protects your ears. You've basically got two options: soft shell or hard shell.
Soft shell headgear is normally made from polymer or a soft rubber or cloth material. This is often a good choice for youth wrestlers, as it's comfortable and won't hurt your opponent either.
Hard shell headgear is lightweight and made from hard wearing plastic. The ear shells normally have slits for better hearing. However, these types of headgear are not normally allowed in international or Greco-roman competitions.
Strap in
You'll normally see headgear with about 3 to 5 straps – a good rule of thumb is the more straps, the better. This lets you adjust your fit even more, letting you get a good fit across your whole head giving excellent security.
Some headgear has a chin cup rather than a chin strap. This might be more comfortable and could be worth a try, as it stops pressure being put on your throat.
So, for anyone who's confused by all the headgear on offer, don't worry. Typically, the best headgear on the market is also the most popular – so listening to what other wrestlers are saying can reveal some tried and tested wisdom.