News & Blog
Different Singlets
Posted on February 1, 2012 , by junowebdesign
There are two different types of Singlets, sublimated and lycra.
Sublimated singles are the singlets that can be fully printed on, whatever logo or colour, sublimated singlets are brilliant to print your team colours and are more flexible in terms of design.
The other option of singlet is a lycra singlet. These tend to be basic colours but are readily available. These can have a logo printed on them or a have a sewn singlet that is custom made, basically the material stops laser printing and can make the print peel off.
Sublimated singlets or custom singlets are fantastic, but may take some time to turn around, especially if you have placed an order for a whole team. You never have to worry about the logos fading or peeling, although you need to take care of your Sublimated singlets, because they can be damaged when sliding around on wooden benches. So, to protect the singlets it is an idea before your match to wear warm ups, or shorts over the singlets to protect them.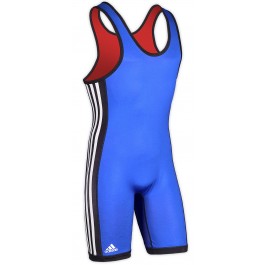 At My Wrestling Room we boast a huge range of custom and stock singlets.
Most match singlets tend to be red or blue so you can stand apart from the opposition. We stock singlets that can be turned inside out to accommodate both colors.
Our singlets are from the best wrestling brands including Asics, Matman, Brute and Adidas.
Some of our new range of singlets have been produced in line with the London 2012 Olympics and sport the British Flag.
You can opt for custom laser printed or custom sewn singlets, as we mentioned before, Lycra tends to not take laser printing very well, so it is better to stick with a sewn logo.
The singlets that are perfect for laser printing are made of a much more sturdy material which allows color to sink in and keeps the color bright for years, if looked after well.