News & Blog
Boys Wrestling Shoes
Posted on October 22, 2012 , by wrestling
Fully equipping a student wrestler includes having a few pairs of boys wrestling shoes. Minimally one quality pair is necessary, but your wrestler should have a practice pair in addition to the pair he wears during meets. Finding the right wrestling shoes at affordable prices is what it's all about at mywrestlingroom.com. We've got the widest selection and the top brands your wrestler needs. You will only make one stop when shopping for wrestling clothing and gear when you come to My Wrestling Room to equip wrestlers of any age.
Check Out The Boys Wrestling Shoes We Have In Stock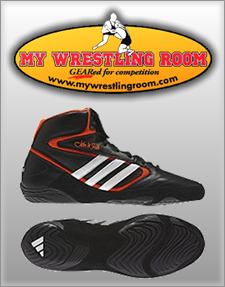 If your wrestler is going to take his sport seriously, you have to know that the proper shoes are essential. They're nothing like a simple street shoe. Boys wrestling shoes are designed to provide support without bulk, allowing the wrestler to move as if he's not wearing shoes at all. Yet wrestling shoes provide vital traction and arch support, things that definitely can't be found when going barefoot. The youth wrestling shoes manufacturers take full advantage of current technology to bring better shoes to market every year. My Wrestling Room takes pride in keeping up with the cutting edge and always having the newest shoes and equipment to help your wrestler master his sport.
My Wrestling Room provides much more than just boys wrestling shoes -- we carry all the equipment that any wrestler of any age is looking for. It's our goal to equip all wrestlers with everything they need from the ground up. When you're shopping for knee pads, head gear, warm-ups singlets and more, -- whatever is on the list, you'll find it at mywrestlingroom.com. Before you consider looking anywhere else, browse our huge selection of wrestling products and take note of the brands. We know you'll always find everything you are looking for when you come to My Wrestling Room.