News & Blog
Youth Wrestling Shoes
Posted on July 5, 2012 , by wrestling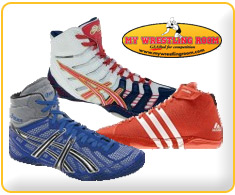 Finding the right youth wrestling shoes for your child can be a daunting effort. There are so many choices to choose from; team colors, fit, comfort, usability, and the age and experience of the wrestler. At mywrestlingroom.com we have some of the finest youth wrestling shoes that you'll find. Plus, while shopping on our online store for wrestling gear, you won't have to worry about going to the mall, or any other store. No lines and no parking, we make it easy for you to browse through our entire inventory of the most up to date and current year wrestling shoes.
Youth Wrestling Shoes in Many Styles
No matter what age your child is, we're sure to have a well-built shoe for them to wrestle. Everything from the most experienced youth wresters to the little ones just starting to learn the moves, we have a great selection online. We carry Asics, AdiZero, Adidas, Aggressor, Dan Gable, and many more styles. Once you've found the right style of shoes, you 'll be able to view the shoe from different angles, choose the size of shoe, and the color of shoe.
On each of our youth wrestling shoes product pages you'll be able to read a full description on the show which will include the weight of the shoe, if it's lightweight made just for wrestling, duosole or not, traction reviews, and more. We sell shoes that are made for comfort, made for the wrestler, and will perform match after match. Many individuals and wrestling teams have purchased through mywrestlingroom.com and we strive to carry nothing but the best shoes in the business. Adidas and Asics wrestling shoes come in many styles and colors, browse our selection and you'll be sure to find the right color, the right size, and one of the best wrestling shoes your child has worn. It's as easy as browsing our online store, clicking on the shoe, and ordering online. Our shoes will be delivered right to your doorstep so you won't have to fight the crowds.