News & Blog
Best Wrestling Games
Posted on January 20, 2012 , by junowebdesign
We're heading for the weekend, it's been a busy week, so the members of the My Wrestling Room team are going to kick back, relax and enjoy a game or two on our consoles.
We've rated some of the best Wrestling Games for a range of computers, so lets take a look at what we could all be playing this weekend!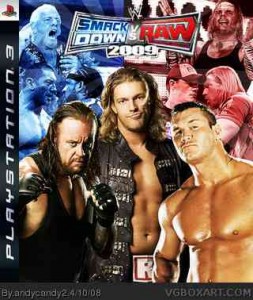 Starting with the PS3- some of our favorites include WWE All Stars, WWE Smackdown vs Raw 2010, WWE Smackdown vs Raw 2009 (collectors edition) and the standard 2009 edition.
These games are so great, that they have all been rated top from a range of games, these are also available for XBOX 360 and Wii.
For the DS and PSP, WWE Smackdown vs Raw 2009 seems to be the popular option.
So, coming out on top is WWE Smackdown vs Raw 2009, why is this such a popular game?
This game packs 60 different wrestlers, 14 different one on one match options, better graphics, better replays and you can download content to improve the game and access more.
If you are a big game head and into your wrestling, you will probably know this game inside out with it's simple controls and access to some superior moves.
As gaming develops and advances, we wonder if there will soon be a game available on the Wii or Kinect that follows your every move as you grapple with your mom on the living room mat, pinning her and taking all the glory.
We're not sure how safe that would be, but let's be honest, these games which increase movement have been an improvement to many sedentary lives and can improve fitness.
So what are we doing this weekend? Possibly designing a new computer game... if not, we will be playing WWE SDVR 2009 and catching up with any wrestling matches.