News & Blog
Asics Wrestling Shoes Online
Posted on December 14, 2012 , by wrestling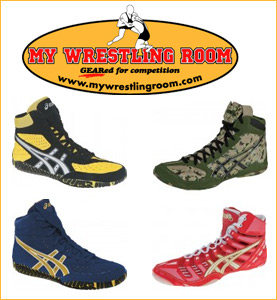 A pair of Asics wrestling shoes just might be one of the best gifts available this holiday season. The first and foremost mainstream manufacturer of wrestling footwear has masterfully crafted an assortment of top-notch shoes available just in time for the wrestling season. Any longtime wrestler will tell you the importance of a good pair of shoes – or regale you with stories of bad ones – over the course of the sport's long season. Wrestling is a tough sport, and it is especially tough on wrestling gear. By midway through December, too many grapplers show up at competitions with shoes that are well past their expiration date – often held together with athletic tape. Wrestlers alight the mat with little more than a pair of shoes, a team uniform, and a resilient attitude. It is important to keep your wrestler well-equipped in the one area you can; and with the help Asics and mywrestlingroom.com, that's all too easy.
Asics has an impressive track record when it comes to wrestling shoes. Asics wrestling shoes (and indeed Asics shoes of any variety) are consistently considered among the best in the world. The Tokyo-based manufacturer conveys a vibrant enthusiasm for producing innovative and practical footwear. The company abides by the Latin motto Anima Sana In Corpore Sano (ASICS), meaning "a healthy mind in a healthy body". Asics has been producing wrestling shoes in particular for over fifty years, and many wrestlers opine that they are the best in the business. Their shoes are always comfortable and durable, and their level of performance is second to none: In the 2012 London Olympics, 74kg NCAA and world champion Jordan Burroughs won a gold medal while sporting a pair of Asics.
Many Varieties of Asics Wrestling Shoes Online
Mywrestlingroom.com carries Asics wrestling shoes in all varieties, from the flexible Omniflex Pursuit and Dan Gable Ultimate II to the resilient Aggressor and Matflex 3 and the classic Split Second and Cael designs, all at the lowest prices on the web. Mywrestlingroom.com was founded, built, and maintained by wrestlers with one ever-present purpose: to provide a cheaper, easier, and more convenient way to buy wrestling gear. It traces its origins to a former collegiate wrestler trying to find wrestling shoes for his son. From a humble start-up to one of the leading wrestling equipment sites on the web, mywrestlingroom.com has never lost the competitive drive that wrestling requires and teaches. Check out mywrestlingroom.com right now for a great selection of Asics shoes and wrestling apparel that ships quickly and reliably – just in time for the holidays!