News & Blog
Armed forces wrestling
Posted on January 23, 2012 , by junowebdesign
For those who have joined youth, high school or college wrestling teams, the love of sport doesn't have to finish when you leave school.
My Wrestling Room has been taking a look at Armed Forces Wrestling and the success between the forces, of an incredibly popular sport.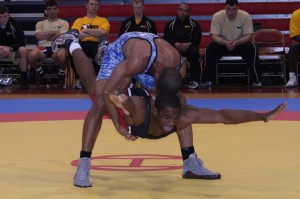 We have mentioned before how wrestling is not only a great sport to increase fitness and power, but it also commands a high amount of respect, focus and mental toughness.
If you feel that your path is to join the armed forces, but want to continue with your favorite sports, the forces provide a great platform for wrestlers and you will possibly have the chance to travel all around the world with this fantastic sport.
You can't just walk onto an armed forces team, you need to have the credentials and skills to prove that you are a valid memeber of the team, as many armed forces wrestlers have bought home Gold medals from a range of competitions.
The Army, Navy, Air Force and Marines all have teams that practise all styles of wrestling including Greco and Freestyle.
If you are not sure what you want to do as a career, but know that you want to carry on with the sport you love and see some of the world, the forces could be a great path to take.
On the other hand, if you know you want to serve your country and gain experience in a range of skills, sports and travel, the armed forces is the perfect place for you.
In a similar vein to wrestling, the Armed Forces turn boys into men and you can take all the skills you gain and channel them into your sports and training.
If you ever get the chance to watch some forces wrestling, take a look, they are great matches to watch.