News & Blog
Youth Wrestling Gear
Posted on August 16, 2012 , by wrestling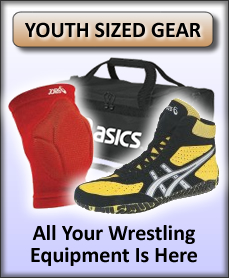 Many websites offer youth wrestling gear, but only mywrestlingroom.com combines knowledgeable staff (including current and former collegiate wrestlers and state champions with decades of collective experience) with a wide selection of high quality youth gear at reasonable prices. At mywrestlingroom.com, we know our gear, and we have the experience to understand what equipment is right for your youth wrestler. After all, many high-impact wrestlers get their start in elementary school and middle school. Long story short, we've been there. And we can make the process a whole lot easier on you.
Youth wrestling gear can be easy to find!
At mywrestlingroom.com, our goal is to make the process of finding the best youth wrestling gear easy and affordable. Wrestling is a journey, and many guys start that journey when they're small. Youth wrestling is an unpredictable, exhilarating experience. It teaches kids discipline, respect, and the value of hard work. Finding the right gear can be confusing if you're a first-time wrestling parent: "What does my youth wrestler need? And why?" It's really quite simple. First off, a wrestler needs shoes to grip the mat. These are a matter of performance as well as safety. A wrestler also needs headgear, to prevent damage to their ears. Wrestlers who use headgear avoid cauliflower ear and burst blood vessels in their sensitive upper ear area. Those are the basics, but a wrestler might want to accessorize with a nice singlet, kneepad, or mouth guard (required if he or she has braces).
Mywrestlingroom.com simplifies the process of finding youth wrestling gear. We have a large selection of youth shoes, singlets, headgear and more in our "youth wrestling" section. Our apparel is all top of the line and our prices are always the lowest on the net. Wrestling is a sport of champions, and we like nothing more than to help the youth of today transform into the champions of tomorrow! Get your youth wrestler equipped and ready right now!