News & Blog
Wrestling Singlets For Kids
Posted on September 24, 2012 , by wrestling
Looking for wrestling singlets for kids? A wrestling singlet is the uniform worn by wrestlers during wrestling matches. Whether in a dual meet, a state championship, or the Olympic finals, high level wrestlers almost invariably choose to wear a singlet during competition. Singlets are made of a single piece of fabric, usually Lycra, nylon, or a Lycra/nylon blend. The Lycra used in wrestling singlets is a high-tech material that stretches for a snug fit while providing consistent strength to prevent damage. Nylon is touted by some wrestlers for its comfortable feel. A Lycra/nylon blend combines the strength of Lycra with a softer overall feel.
Finding the perfect wrestling singlets for kids can be easy!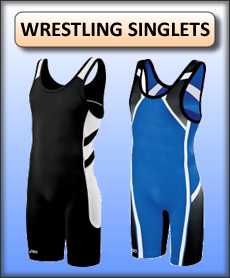 When shopping for a wrestling singlet, you might find yourself asking: "Wrestling singlets come in so many sizes and styles – where do I begin?" The process of sifting through various options can be stressful. At mywrestlingroom.com, we think that shopping for a singlet should be easy… and fun. Finding the right wrestling singlets for kids comes down to four factors: fabric, cut, size, and design. As discussed, the choice of fabric is between Lycra (a tighter, stretchier fabric) and nylon (softer). Cut refers to the depth of the neckline. Greco wrestlers and freestyle wrestlers prefer the low-cut style for increased dexterity, while high-cut is designed for folkstyle (the type practiced in most American high schools) wrestlers.
At mywrestlingroom.com, we provide easy sizing instructions right on the website. Our hope is that this makes the sizing process simple and painless. As for design, we offer a wide selection of styles of wrestling singlets for kids from Asics, Matman, Adidas, and Brute. We also provide custom singlets so that you can design your own singlet! These singlets are fully customizable, just provide your team name and colors and select from any design in our "custom wrestling singlets" section.