News & Blog
Wrestling Shoes Kids
Posted on October 23, 2012 , by wrestling
When it comes to shopping for wrestling shoes, kids can be a tough demographic to shop for. My Wrestling Room is an online vendor that provides some of the highest quality wrestling shoes kids in addition to other wrestling necessities such as singlets, apparel, equipment, headgear, and knee pads. Our inventory is ideal for a wide range of customers, including kids and adults, males and females.
Premier Wrestling Shoes Kids Are Sure To Enjoy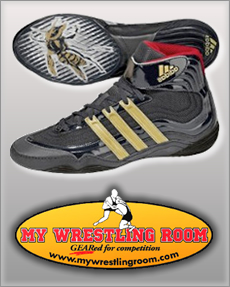 One of the main reasons why customers continue to come back to The Wrestling Room is because of our low prices. We also carry the finest quality brands of kids wrestling shoes, which include Adidas, Championship Productions, Kennedy, Asics, Cliff Keen, and Shock Doctor. Whether you are a professional wrestler or someone competing at the high school level, you are sure to find what you need. If you are looking for wrestling shoes, kids shoes can be difficult to track down both in sporting good stores and through online ventors. My Wrestling Room boasts one of the largest selections for kids wrestling shoes.
One of the reasons why folks trust My Wrestling Room is because our company is the creation of Christopher E. Lenzi, a former NCAA wrestler. He is familiar with and knows how difficult it can be for wrestlers to find everything they need in one place. We provide wrestling attire and wrestling shoes kids and adults alike will be able to compete in comfortably and confidently.
To speak candidly, wrestlers need the support of high quality gear. Because wrestling is such a physically demanding sport, athletes cannot risk using cheap and low quality protective gear. Wrestling is demanding and protecting your body should be at the top of your priority list. My Wrestling Room helps keep folks protected, allowing wrestlers to focus all of their energies on performing at their best. Our wide range of inventory allows for one-stop shopping, adding convenience to the shopping experience.