News & Blog
Wrestling Shoes For Sale
Posted on September 18, 2012 , by wrestling
Looking for wrestling shoes? At mywrestlingroom.com, we have many varieties of wrestling shoes for sale. We stock the all the latest top styles, including Omniflex, AdiSTAR, Dan Gable Ultimate, Aggressor, Split Second, and Mat Wizard. Shoes tell a lot about a wrestler, from his or her wrestling style to his or her personality, because wrestling shoes are a reflection of their wearer. In terms of style, lighter, quicker wrestlers often choose a split-sole shoe, such as the Dan Gable Ultimate, to increase responsiveness on the mat. Larger or more power-oriented wrestlers often opt for a single-sole shoe, such as the AdiSTAR, in order to maximize surface area and mat gripping potential. Of course, every wrestler is unique, so the ultimate decision has to be made by the individual wrestler.
Mywrestlingroom.com has hundreds of wrestling shoes for sale at unbeatable prices!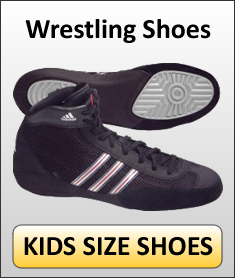 Many beginner or intermediate wrestlers have trouble picking out wrestling shoes. There are so many varieties of wrestling shoes for sale. What is the difference between all these styles? What makes a pair the right fit for you? Wrestling shoes are an investment that should last at least a season, and possibly an entire career. Making the right decision is incredibly important, but it can be easy, too! Major factors of a shoe include sole type, breathability, flexibility, and ankle support. Breathable shoes, such as the Dan Gable Ultimate, keep the foot much cooler but can be prone to damage. Flexible shoes such as the Omniflex are able to give a wrestler traction from any position on the mat, but offer less support than rigid shoes such as the Mat Wizard. Shoes with high ankle support, such as the Cael or Aggressor styles, prevent a wrestler from rolling an ankle, but some wrestlers prefer the full range of motion offered by low-cut shoes like the AdiZero.
At mywrestlingroom.com, we try to make the process of buying wrestling shoes easy. We have a huge selection of high-quality wrestling shoes for sale at the lowest prices on the web. Find out more about wrestling shoes at mywrestlingroom.com now!