News & Blog
Wrestling Gear Websites
Posted on September 28, 2012 , by wrestling
Wrestling gear websites always claim to offer the best prices and selection, but can they really match up to mywrestlingroom.com? Mywrestlingroom.com was founded by a former collegiate wrestler and employs current wrestlers in NCAA programs. Suffice to say, we know our way around a mat. To that end, we stock only wrestling shoes and apparel that have been proven to be practical and high quality. Our business is wrestling, and we hope to make it your business too. We want you to know a split-sole shoe from a single-sole, a nylon singlet from a Lycra blend, a shock-absorbing kneepad from a compression sleeve – because when you have that knowledge, you can make better choices about the gear that is right for you.
Mywrestlingroom.com is tops among wrestling gear websites!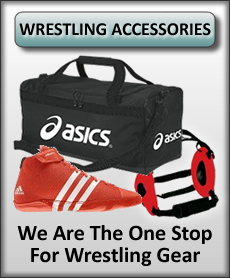 At mywrestlingroom.com, we are proud of our wrestling heritage. We know what it takes to be a successful wrestler, and we strive to facilitate success in the sport. Any coach will tell you, wrestling is about technique, strength, and guts; but we believe that the right equipment can be a major (and often overlooked) way to hedge your chances of coming out of a tight match with your hand raised. That's why wrestlers need a fast, easy, cheap, and efficient way of getting the gear they need for competition. We know this because we were in their shoes once (pun intended). Hence, the creation of mywrestlingroom.com – a fast, easy, efficient, affordable, and reliable source for all of your wrestling needs.
Among wrestling gear websites, mywrestlingroom.com is hard to beat. Most wrestling gear websites can't offer the affordability and reliability that we offer. Day in, day out, we ship wrestling shoes, singlets, headgear, and more to every corner of the United States. Get in on the action now – log on to mywrestlingroom.com and get equipped!