News & Blog
Wrestling Gear For Sale
Posted on October 2, 2012 , by wrestling
It is easy to find wrestling gear for sale online, but finding the right gear is another matter altogether. Throw in quick shipping and affordable prices, and the field narrows even further. At mywrestlingroom.com, we know wrestling. Our staff includes current and former NCAA wrestlers, with decades of combined experience on the mat. That experience translates to knowledge – about the sport, about the culture, and (most importantly in this context) about the equipment involved. What is a split-sole shoe? Do you need a mouth guard? What are the benefits of a bubble kneepad versus one that mostly provides compression? We know, and you can too.
We have tons of wrestling gear for sale at mywrestlingroom.com!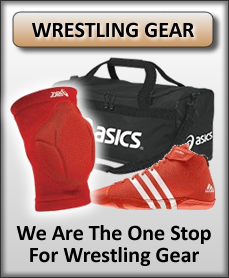 Mywrestlingroom.com has a large selection of wrestling gear for sale. Our wide variety of headgear, shoes, and apparel, combined with our wrestling know-how, are sure to help you find the right products to suit your wrestling needs. We carry Brute, Asics, Adidas, Matman, Kennedy, and much more. Mywrestlingroom.com marries the selection of an outlet to the convenience of the internet. We scour the wrestling scene for the newest and best in wrestling innovation and ship it quickly to your doorstep.
If you're tired of spending too much time and effort locating wrestling equipment at reasonable prices, you're not alone. Finding the right wrestling gear can be a difficult task. But it doesn't need to be! That's the whole point of mywrestlingroom.com, your one stop shop for everything wrestling. It's fast, easy, and reliable, and our prices are the lowest on the web. Of course, our commitment to wrestling and knowledgeable product resources don't hurt either. Bottom line: mywrestlingroom.com is THE place to find wrestling gear for sale online. Shop us once, and you'll always come back for our great deals.