News & Blog
Wrestling Accessories
Posted on September 26, 2012 , by wrestling
There are a lot of places to find wrestling accessories on the web, but only one spot to find the best gear at the lowest prices: mywrestlingroom.com! Mywrestlingroom.com is run by wrestlers, for wrestlers. We have extensive connections to the wrestling community, and we get more feedback on our products every day. Not only are we vendors of shoes, apparel, and accessories: we're users, too. We know the wear and tear that constant practice puts on your gear, the traction and flexibility necessary for effective use on the mat. We supply only wrestling gear that we would want to use ourselves, at prices that we wouldn't mind paying.
Mywrestlingroom.com has tons of wrestling accessories for all your wrestling needs.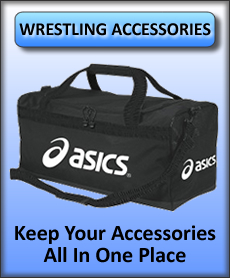 Wrestling accessories include shoes, singlets, shirts, kneepads, headgear, and much, much more. Shoes, singlets, and headgear are extremely important for any wrestler looking to make an appearance on the mat, both for performance and safety reasons. We sell shoes and singlets in a vast variety of colors in most youth and adult sizes. Headgear is generally one size fits all, but we have a bunch of styles to choose from. Besides the bread and butter, we provide tons of different wrestling accessories. Whether you need tee shirts or warm-ups or a wrestling gym bag, we've got you covered. We also have mat maintenance solution and skin disease prevention products to keep your mats clean and your wrestlers healthy.
Long story short, mywrestlingroom.com is the premier website for wrestling gear and accessories. Our products are top quality, our knowledge is unbeatable, and our prices are the lowest on the web. We know wrestling inside and out; it is our passion as well as our job. So stop by our online store now and stock up on everything you need for a successful season. We'd wish you good luck, if we believed in that sort of thing.