News & Blog
White Wrestling Shoes
Posted on October 8, 2012 , by wrestling
Finding white wrestling shoes can be tough, especially if you are from a smaller town without much of a wrestling tradition. And for whatever reason, white wrestling shoes seem to be required for most meets. You know that your kid needs the right shoes for the sport, but it just seems a bit too much to pay for a pair of shoes that your child will outgrow in one season. So where can you go to find the shoes that your child needs but are not going to break your budget? After all, you should not have to choose between your kid's sports needs and the rest of your budget.
Get Some White Wrestling Shoes From Us Today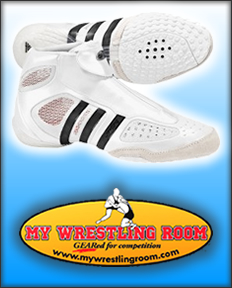 You can find white wrestling shoes and all of the other gear that your child will need in one place here at My Wrestling Room. And we cater to wrestlers of all sizes. That means if you have a younger child wanting to try youth wrestling for the first time, you can find everything you need to fit them. Or if your child competes in the heavyweight class, you can also buy wrestling shoes for their needs as well. Whether that means that your kid outgrew a singlet, or just needs a fresh set of headgear, or even some knee pads for the next year, we have it all.
But the best part of getting gear from My Wrestling Room is that you know you are going to get a great price on your next set of wrestling shoes or other gear.
We have gear on clearance all the time, and are almost always running great specials. If your local sporting goods stores do not cater to the wrestling crowds, you do not need to worry. You can find everything you need for next year's big wrestling season without leaving your home at My Wrestling Room.