News & Blog
Team Colors
Posted on January 17, 2012 , by charley
If you are a part of a high school or college wrestling team, you'll see that there may be a certain uniform worn on and off the mat.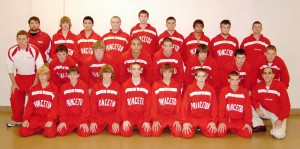 Singlets are used to be able to offer maximum movement to a wrestler without being restricted by what he or she is wearing. It also allows wrestlers to go head to head, grapple and grip one another.
Off the mat at competitions and in training, Warm Up's may be worn to keep the body warm and those muscles and ligaments supple.The colors picked for wrestling teams are very important. They differenciate the clubs and they highlight a logo or a traditional following.
My Wrestling Room stocks a huge range of wrestling wear, which is perfect for teams and clubs.
You will find a range of colored singlets that will match up with your team colors. You will also find versatile singlets which can be worn two ways, showing red or blue.
If you can't find the colors to match your team, you can opt for a custom singlet. These can be printed in an array of designs and styles and feature your club or team logo.
Warm Ups again are available in a range of colors, we can also create custom warm ups to match your team singlets and colors.
If however, you are free to wear whatever you like on or off the mat, or simply to practice, you can opt for a range of wrestling clothing that supports your favorite team or colors.
Wrestling audiences want to see your moves and your technique, so what better to get their attention than wrestling gear which is bright, colorful and functional.
If you have been left to order a teams wrestling apparel, you can contact us to discuss an eye catching design and choose the colors which support your team.