News & Blog
Singlets Wrestling
Posted on September 22, 2012 , by wrestling
While it might be said that all wrestling requires is determination, passion, and grit, it certainly doesn't hurt to be equipped with the sort of high performing shoes and singlets wrestling seems to necessitate. Wrestling gear is a competitor's first line of defense – and attack – when out on the mat. Treads need to grip the mat, headgears need to protect ears, and (often overlooked) singlets need to stay tight and give a wrestler maximum dexterity and breathability. Singlets are so important that competitive coaches often agonize over each dimension and style before making any acquisitions.
Mywrestlingroom.com has the kind of singlets wrestling demands!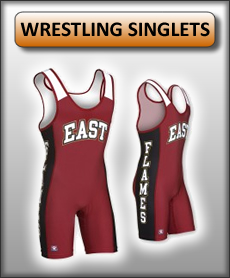 When it comes to singlets wrestling is a sport with many choices. High cut or low cut? Long on the legs or short? Lycra or nylon – or a blend of both? There are a lot of factors that go into any uniform, but when it comes to singlets wrestling has created an industry with literally hundreds of makes and styles. Why the plethora of apparel? Simply put, wrestlers love to stand out on the mat. A great mat presence is often times determined as much by a wrestler's gear as by his talent. This is not to say that style trumps skill – but it is hard to be visible at a tournament with hundreds, sometimes thousands, of other wrestlers.
Mywrestlingroom.com is committed to providing wrestling singlets at the lowest prices on the web. Our prices will trump any other. Not only that, but we also provide a great selection of wrestling singlets that will ship quickly to your door. Brands include Brute, Asics, Adidas, and Matman. Besides dozens of variations of pre-designed singlets, we offer customizable styles for individuals or teams. All you need is to provide us with your preferred colors, team name, and then pick out a template. It's so easy, a basketball player could do it!