News & Blog
New Wrestling Shoes
Posted on August 14, 2012 , by wrestling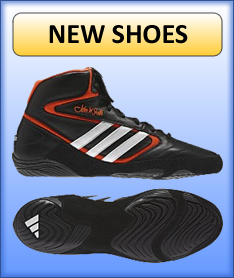 Wrestling shoes are a wrestler's greatest asset. A pair of new wrestling shoes can greatly improve performance on the mat. Hours of drilling and sparring take a toll on an old pair of shoes scuffing and degrading the rubber soles. As the treads on the soles wear down, a wrestler is less able to grip the mat and is therefore not able to maximally leverage his strength. In wrestling, leverage is everything, so replace your wrestler's old wrestling shoes with a pair of new ones and see the transformation!
New Wrestling Shoes Can Make All the Difference
Nobody likes to wear old, worn-down shoes. Shoes offer less support and are less comfortable as they age. For wrestling shoes, the biggest issue with aging shoes is the loss of traction. A worn-down shoe provides less traction on the mat, and can even be a safety concern if the wrestler slips. Another concern is the loss of arch support, which can lead to foot complications later on in life. New wrestling shoes provide more traction and arch support, keeping the wrestler in a good stance on the balls of his feet. A good stance leads to good technique, which leads to more victories on the mat.
New wrestling shoes make the perfect gift for your wrestler. Whether for a birthday, a holiday, or a pre-season present, nothing is more suited for a wrestler. Whether your wrestler is just starting out or has been wrestling for years, a new pair of shoes is always a welcome addition to his or her arsenal. That is why mywrestlingroom.com is here for all your wrestling shoe needs. Mywrestlingroom.com carries all the newest, best and most popular styles of wrestling shoes at the lowest prices on the web. A new pair of wrestling shoes can make all the difference, so check out our selection today.