News & Blog
New Adidas Wrestling Shoes
Posted on December 20, 2012 , by wrestling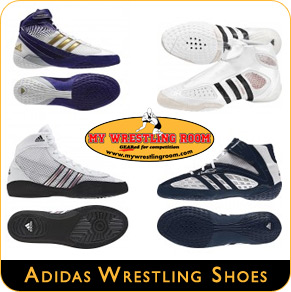 Adidas has been making shoes since before I was born, and they make high quality wrestling shoes for grapplers of all ages. The Adidas logo is known the world over, but the company is based in Germany. The Germans have a rich history in wrestling, although the sport currently does not enjoy as much interest at the high school level. Fortunately, Adidas still makes a multitude of great wrestling shoes and distributes them as far away as Russia, Mongolia, and the United States.
Adidas wrestling shoes are usually one-piece designs. This keeps them simple, cheap, and easy to use. There are rarely any bells and whistles that stick out or obstruct the shoe. The soles are simple and contain durable rubber grip patterns that don't wear away. Additionally, Adidas uses high-tech fabric blends to keep their shoes breathable and lightweight, while maintaining structural integrity. There are very few shoes that hold up as well as Adidas over a long period of time. Add into the practical mix the general sleek designs created by Adidas, and you have a great batch of wrestling shoes.
Adidas Wrestling Shoes at Mywrestlingroom.com
Adidas has a variety of shoes in their wrestling section, including perennial favorites like the Mat Wizard and Combat Speed designs. The Mat Wizard IV is currently very popular among wrestlers of all levels for its simple elegance, while the Combat Speed III is tearing up the competition with its toughness on the mat. Also commonly sought by wrestlers are the Pretereo II and Response II. The Pretereo II is a surprisingly successful crossover in the vein of low-cut boxing shoes, while the Response coincided with Adidas' creation of the Climacool ventilation system.
Adidas also makes shoes that commemorate special events, such as the Sydney and Beijing Olympic Games. The original Sydney 2000 shoes were billed as Adidas most advanced wrestling shoe at their debut in 2000, but they have been updated in 2012 and redubbed the AdiZERO Sydney because of their light weight. Likewise, the Beijing shoes have been "rebooted" as the AdiSTAR Beijing wrestling shoe. Both of these shoes give top-of-the-line performance to wrestlers at all levels.
Mywrestlingroom.com carries Adidas wrestling shoes as well as many other shoes and wrestling equipment. Gear usually ships within a couple of days and the prices are the lowest anywhere on the web. You can check out their inventory at mywrestlingroom.com now while supplies last.