News & Blog
Knee Pads for Wrestling
Posted on September 4, 2012 , by wrestling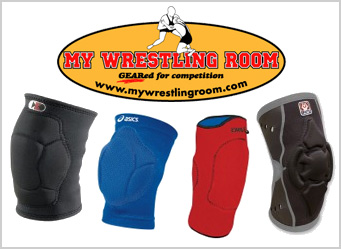 Most wrestlers wear knee pads during either practice or competition. Knee pads for wrestling help reduce friction on the knee from taking shots, and also provide compression to keep joints healthy and strong. Some wrestlers opt for a pad on each knee, to protect both legs from damage and abrasion. Others opt for a single kneepad, usually on the leg that skims the mat during shots. Some wrestlers find a kneepad confining and decide not to wear one at all; others claim that a kneepad reduces friction and allows for faster shooting. As with everything in the wrestling equipment world, it comes down to a matter of taste. One thing is sure, though: knee pads for wrestling are found at every level of the sport.
Which Knee Pads for Wrestling are right for you?
There are many types of knee pads in wrestling. The simplest and most basic is the compression sleeve. Nano Flex knee supports fall into this category. They don't provide a cushion (which some wrestlers find limits movement) but keep the different parts of the joint firmly in place. The next type is a sleeve featuring a small foam or gel-filled cushion to soak up impact. Brute, Asics, and Cliff Keen all make different styles of these. There are also bubble knee pad, which feature more profound padding and are recommended for wrestlers with more aggressive shooting styles. Cliff Keen also makes a knee brace for wrestlers with knee injuries or those just seeking maximum support. Again, the choice is in the hands of the individuals.
Mywrestlingroom.com carries all of these different styles of kneepad. Whether you want maximum flexibility or maximum support, we have the knee pads for wrestling you're looking for in stock and ready to be shipped directly to your door at the lowest prices you can find on the web. If you don't believe us, shop around – we guarantee that you'll come right back to mywrestlingroom.com!