News & Blog
Kids Wrestling Shoes
Posted on September 8, 2012 , by wrestling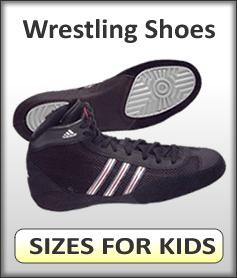 Shopping for kids wrestling shoes can be stressful. Most athletics stores only carry a few styles to start out with, and often neglect to stock youth sizes altogether. Lack of selection, poor construction, and cost can discourage fledgling wrestlers from obtaining a pair of wrestling shoes of their own. At mywrestlingroom.com, we realize the value of youth wrestling as a vital learning experience that molds character into boys and girls. Young wrestlers learn skills that they will use throughout their wrestling careers and in life beyond wrestling. To support these developing wrestlers, mywrestlingroom.com stocks an array of quality youth wrestling shoes that will suit any budget.
Finding Kids Wrestling Shoes Can Be Easy!
The first few years are often the most exciting of any wrestler's career. Of course, they can also be the most confusing for both the wrestler and his or her parents. There are many styles of wrestling shoes to choose from, but keep in mind that the two foremost brands are Asics and Adidas. Adidas is a larger and more established company, but Asics has secured a fantastic reputation among the wrestling community. Both brands produce quality wrestling shoes, and both companies' shoes usually run about a half size smaller than everyday footwear. Either way, you will be impressed with the performance and lifespan of your shoes.
At mywrestlingroom.com, it is easy to find kids wrestling shoes. We carry only quality shoes that will hold up to the strain of the wrestling room. All our shoes have lace guards that protect stray fingers from getting caught up in the laces during a match. Our kids wrestling shoes are durable, affordable, available in a variety of kid-friendly colors and styles, and ship quickly to anywhere. Also, our return policy allows you to return shoes if they do not fit – because shopping for wrestling shoes should be fun, not stressful.