News & Blog
Discount Wrestling Shoes
Posted on November 19, 2012 , by wrestling
If you are looking for discount wrestling shoes, singlets, apparel, equipment, or wrestling headgear, My Wrestling Room is the place for you. We cater to a wide range of clients, which include children and adults, females and males. My Wrestling Room offers one of the biggest selections of wrestling apparel and equipment among sporting good sports or online vendors, making shopping convenient and easy. Whether you wrestle at the high school, college, or professional level, My Wrestling Room has all of the items you need to be a competitive and confident wrestler.
There's A Way To Get Discount Wrestling Shoes From Us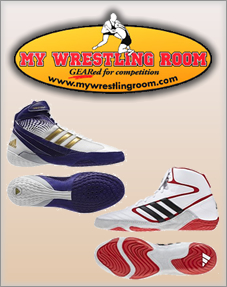 We all know that wrestling is a physically demanding and potentially dangerous sport if the right gear is not used. The problem for many is that wrestling items are expensive such as new wrestling shoes! It is hard to find reasonably priced wrestling equipment and apparel in sporting good stores such as Big 5 or Dick's Sporting Goods. Online vendors can also be expensive. Finding discount wrestling shoes with companies such as My Wrestling Room and other apparel can help ease the costs. You should never compromise quality of gear, as it is your protection in the ring. Luckily, The Wrestling Room offers products from brands such as Adidas, Champion Productions, Kennedy, Asics, Cliff Keen, and Shock Doctor. Since we carry everything you need, customers find shopping with us convenient, as they no longer have to check with three or four different sporting goods stores to find what they are looking for. For folks looking for discount wrestling shoes, we also have a clearance section they can look through.
My Wrestling Room was created by Christopher E. Lenzi, a former NCAA wrestler. He is well versed in the sport and knows what items wrestlers need to be successful. He offers a full refund on items returned within 30 days to ensure that folks get exactly what they want and need.