News & Blog
Best Wrestling Shoes
Posted on October 7, 2012 , by wrestling
Wrestling is a competitive and sometimes brutal sport. Investing in the best wrestling shoes and other wrestling apparel and protective gear is quite important in keeping you safe and wrestling for years to come. My Wrestling Room provides customers with the most protective kneepads, ear guards, mouthpieces, and facemasks to minimize injury and keep you safe while enjoying your match time.
We Have The Best Wrestling Shoes Online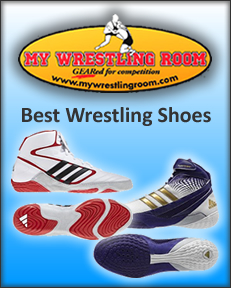 If you are looking for the best wrestling shoes at the best price, look no further than My Wrestling Room. Our new wrestling shoes selection is perfect for the wrestler who wants to one-stop-shop. We aim to provide our customers with a wide breathe of inventory, including a variety of different brands and gear, which inlude Asics, Adidas, Matman, and Brute. We carry the best-selling products, offering some of the lowest prices found anywhere in the market. We offer the finest quality singlets, t-shirts, kneepads, and headgear. Folks who have tried shopping at local sporting goods stores or even through online vendors often find themselves frustrated with the lack of supply. Whether you are wrestling at the high school, college, or professional level, we have all of your needs covered.
My Wrestling Room was founded by a professional wrestler who is well versed in just what a wrestler needs to be successful. His passion and love for the sport is evident is the ethical way he runs his business. He aims to keep prices low, enabling fellow wrestlers to order exactly what they need in order to enter the match confident and safe. Their customer service is phenomenal. Orders are processed within 24 hours, and packages can b expected within 4-8 business days.
Whether you are shopping from the best sellers selection or clearance items, My Wrestling Room offers the finest and highest quality wrestling gear for you.