News & Blog
Asics Youth Wrestling Shoes
Posted on September 10, 2012 , by wrestling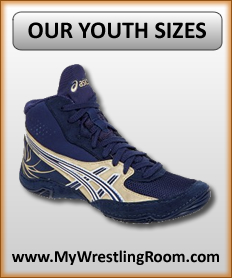 Your search for Asics youth wrestling shoes ends at mywrestlingroom.com! With our great selection of colors and styles (combined with outstandingly low prices), mywrestlingroom.com is your one-stop solution for wrestling footwear. Combat sports teach discipline and self-esteem, and can be an instrumental learning experience in a young person's life. Young athletes are less likely to get into trouble and more likely to excel in the classroom. Even though each bout is wrestled by individuals, wrestling is a team sport with a point system for meets.
We Have Asics Youth Wrestling Shoes for Your Young Wrestler
Wrestling is an ancient sport with a rich tradition. While wrestling is truly as old as human history, the conventional sport has its roots in ancient Greece. The Greeks loved the sport so much that they developed two disciplines: "pale" and "pankration". "Pankration" was a no-holds-barred, vicious dogfight, but "pale" had strict rules that competitors had to follow. It is from "pale" that modern wrestling is derived. This style, now known as "Greco-Roman" wrestling, is still around relatively unchanged to this day. Other styles include "freestyle," which is the most popular style around the world, and "folkstyle," which is the preferred style in most regions of the United States. All styles use
Wrestling is an easy sport for youths to get into. All they need is a pair of Asics youth wrestling shoes and athletic clothing. If they are competing regularly, it is recommended that you also invest in a pair of headgear to protect their ears. Wrestling is an active sport and requires tough shoes that will stand up to the rigors of the mat. Asics youth wrestling shoes are second to none, and will typically keep a wrestler on his feet for several years. Keep in mind that shoes generally run small, so adding a half size will keep a wrestler comfortable and give younger wrestlers room to grow. Remember, mywrestlingroom.com is a one-stop shop for all of your wrestling needs, from shoes and headgear to apparel!