News & Blog
Wrestling Singlets For Sale
Posted on September 20, 2012 , by wrestling
Mywrestlingroom.com has wrestling singlets for sale in an array of colors and styles. We have singlets by Adidas, Asics, Brute, and Matman, as well as a wide selection of custom schemes that you can use to design your very own singlet! And starting at under twenty eight dollars apiece, our singlets can be affordable on any budget. Don't let yourself or a wrestler you know go without a singlet for a minute longer – stop by mywrestlingroom.com today!
Mywrestlingroom.com has wrestling singlets for sale at affordable prices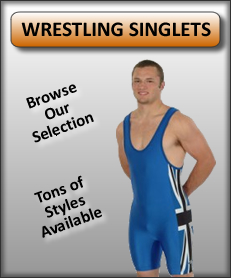 Whether you are a veteran wrestler or new to the sport, a new wrestling singlet can really bring your game to the next level. For beginners, a wrestling singlet is a big step up from shirt and athletic shorts, signifying a commitment to the sport. Owning a singlet is a rite of passage for young wrestlers, who often respond with an influx of determination on the mat. That doesn't mean that a new singlet is lost on a veteran of the sport. Wrestlers of all skill levels enjoy distinguishing themselves at a tournament, both through mat presence and distinctive gear. At large tournaments such as Fargo, singlet-swapping is a widespread phenomenon, as tournament-goers seek to diversify their attire.
Mywrestlingroom.com was founded by a former NCAA wrestler to make it easy for wrestlers to equip themselves for the world's oldest sport. The folks here realized that while it is easy to find wrestling singlets for sale online, it is remarkably difficult to find a reliable vendor who is committed to affordable prices. Mywrestlingroom.com has a wide array of wrestling singlets for sale that ship quickly, directly, and at the lowest prices on the web. We like to believe that our commitment to wrestling helps others to commit to the sport we love.