News & Blog
Wrestling Shoes Online
Posted on November 14, 2012 , by wrestling
You might unhesitatingly buy anything you can on the internet, yet stop short at buying wrestling shoes online. Maybe you think that getting the right fit and assuring the style is something you that can't be done unless you are standing in the store and trying the shoe on before you buy it. That doesn't have to be the case, though, and at mywrestlingroom.com we're out to show you that you can get good quality and an excellent fit when you shop with us. My Wrestling Room carries a large selection of youth and adult wrestling shoes and our experts can help you find the size you need.
Finding The Best Wrestling Shoes Online Right Here!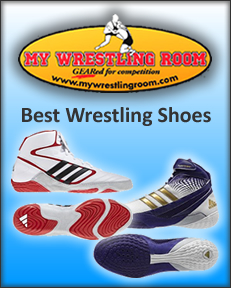 When you come to My Wrestling Room to buy wrestling shoes online, you'll see that we don't just carry shoes but actually stock everything you could want when it comes to the sport of wrestling. Apparel, gear, accessories...we even have wrestling videos and DVD's, skin protectant, wrestling books and bags for your wrestling gear. We've made it our goal to bring every wrestler the wrestling shoes for sale and what they need to master the sport and we bring it all to you in a one stop shopping experience you'll enjoy.
We know when you take just a few moments to browse around the site, you'll agree that we have the best brands and quality wrestling products anywhere. We're confident that you will be pleased with everything you get from My Wrestling Room -- so confident, in fact, that we offer a 30 day money back guarantee. Any purchase that doesn't meet your needs or expectations can be returned for a refund or exchange. With a guarantee like that, there's no reason not to experience buying wrestling shoes online at mywrestlingroom.com. Once you do, we're sure you'll be back again whenever you need wrestling apparel, equipment and accessories.