News & Blog
Wrestling Shoes On Sale
Posted on November 11, 2012 , by wrestling
Finding wrestling shoes on sale can be a challenge. My Wrestling Room is the perfect place to start your search. We cater to a wide variety of different customers in addition to carrying some of the finest brand names out there. Adidas, Championship Productions, Kennedy, Asics, Cliff Keen, Shock Doctor, Brute, and Matman are among some of the brand names we carry. Whether you are looking for wrestling singlets, apparel, equipment, headgear, knee pads, or wrestling shoes on sale, we have something for you!
Some of The Best Wrestling Shoes On Sale Here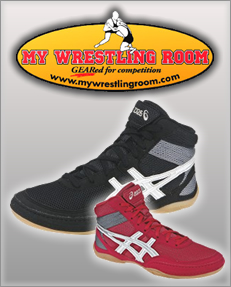 Our commitment to keeping prices low keeps our customers coming back over and over again. If you have ever shopped for wrestling shoes before, you know that a pair of shoes can be well over a hundred dollars. Finding deals and wrestling shoes on sale can be challenging, but through My Wrestling Room, it is entirely possible. Our wrestling shoes for sale clearance inventory offers some of the lowest prices on wrestling shoes. When you find wrestling shoes on sale through us, wrestling is not such an expensive sport, which our customers appreciate.
Another reason to shop with My Wrestling Room is that we offer every item a wrestler would ever need. Whether you need shoes, warm-ups, singlets, headgear, accessories, videos, DVDs, in addition to other supplies, you can one-stop shop with us for your convenience. You can save yourself the hassle of having to travel from store to store in search of the specialty wrestling items you need.
You already know that wrestling is a demanding sport, which can take a toll on your body if you are not well protected. My Wrestling Room aims to keep its customers protected at an affordable price. If you are looking for gear, apparel, or wrestling shoes on sale, My Wrestling Room has a large selection, which caters to wrestlers of all ages.