News & Blog
Wrestling Shoes For Kids
Posted on October 5, 2012 , by wrestling
Mywrestlingroom.com specializes in wrestling shoes for kids as well as any age group. Having the right equipment for your sport is vital to success and at My Wrestling Room, we're GEARed for competition. We are committed to our customers and to a sport that builds character and work ethic. Making sure that not just kids, but wrestlers of all ages are equipped with the kids wrestling shoes and the gear they need is our little part of assuring success inside and outside the wrestling ring. My Wrestling Room is the first choice when you need any type of youth or adult wrestling equipment and apparel.
You Can Get Wrestling Shoes For Kids Right Now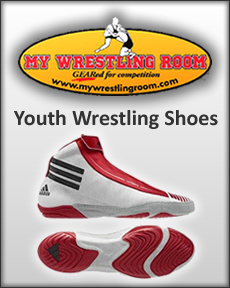 It's true, we do have the best wrestling wear you'll find. From singlets to tshirts, kneepads and headgear, we have it all. But we have the best wrestling shoes for kids, too, in the brands and colors that you're looking for. Light weight and comfortable, our shoes are guaranteed to be just what you need when you are outfitting for the wrestling season. And we don't stop at wrestling clothing and shoes. My Wrestling Room knows exactly what type of accessories you need to successfully and effectively compete. That's why we stock knee pads, ear guards, facemasks and mouthpieces, as well.
Our goal at My Wrestling Room is to help make all of our customers winners. Providing world class wrestling gear and clothing is just the first step in building a champion. We'll do that part, you can confidently do the rest. When you're looking for the best sports brands for youths or adults, come to mywrestlingroom.com. We'll not only provide you with the best name brands of gear, we'll beat the prices of our competition. Whether you're looking for wrestling shoes for kids or adults or any other wrestling gear, you'll find it all and more at My Wrestling Room.