News & Blog
Wrestling Shoes Cheap
Posted on October 6, 2012 , by wrestling
When you are looking for wrestling shoes cheap prices are the one thing most parents usually do not expect to find. The reason for this is actually pretty simple; wrestling is a niche sport, and does not attract the kinds of numbers that other sports do. This leads to really expensive equipment at most local sports shops because the owner just cannot justify buying a big bulk order and spreading out the cost over an entire team. This leads parents into a huge jam; they want their kids to have the best equipment, but might not be able to afford it. So what can you do to find a good price for your kids' wrestling shoes?
Where To Find Wrestling Shoes Cheap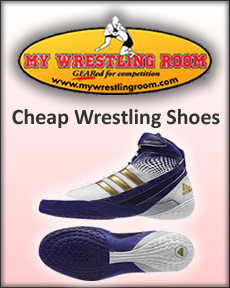 The answer is to buy your next wrestling shoes at My Wrestling Room. We understand your dilemma and can help. Because we are an online company, we can find wrestling shoes cheap just about anywhere, and pass those cheap wrestling shoes savings on to you, no matter where you live. We almost always have great deals going on for clearance so you can get the equipment your child needs without breaking the bank to do it. And we have a wide range of selection so you can find your children's school colors without a problem.
But when it comes to wrestling equipment, you do not have to stop at wrestling shoes. You can find everything your kids need to be successful at My Wrestling Room. From brand new singlets, to head gear, and even knee pads and other accessories, you can get everything your kids need for wrestling season in one stop. So take a look, find a pair of wrestling shoes cheap and buy everything else your kids might need. The right equipment makes for an excellent season on the mat, and you can find it all at My Wrestling Room.