News & Blog
Wrestling Shoes Adidas
Posted on December 31, 2012 , by wrestling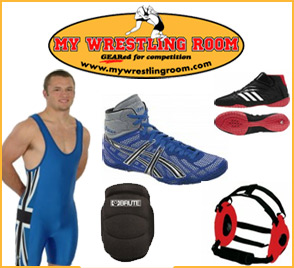 Wrestling shoes Adidas are renowned for their sturdiness, style, and mat performance. Adidas is a top-selling shoe and sports attire company recognized the world over. In 2012 they were a sponsor of the London Olympic Games, which featured thousands of Adidas products on the international stage. Adidas is also top tier when it comes to wrestling shoes. Their best-selling shoes include the AdiStar Beijing, AdiZero London, and Adidas Response 3 styles, but there are many excellent choices of Adidas wrestling shoes under the Wrestling shoes Adidas header at mywrestlingroom.com.
Nobody would argue that Adidas provides anything less than the best quality wrestling shoes, but not everyone realizes that Adidas does more than just sell gear: they are also committed to changing the way the world does business. Since 2010, Adidas has been committed to a new initiative to reduce their environmental footprint – their goal is to reduce that footprint by 15% by 2015 (no small feat for a multinational company with hundreds of plants scattered across the globe). The company is also a forerunner making progress in new Workplace Standards initiatives, which ensure that every employee is afforded livable conditions and wages.
Wrestling Shoes Adidas and Asics - Ready for Combat
Newbie and veteran wrestlers alike might applaud the humanitarian and environmental efforts of Adidas, but the real reason that Adidas wrestling shoes are so popular is because they are such high quality. Mywrestlingroom.com knows wrestling, and we carry the best wrestling equipment – that's why we provide Adidas wrestling shoes in the wrestling shoes Adidas section of our website. Mywrestlingroom.com has a great selection of Adidas shoes and gear at unbeatable prices, so whether you are a humanitarian, an environmentalist, or just an aficionado of great wrestling shoes, you should stop by the website today.