News & Blog
Wrestling Knee Pads
Posted on August 27, 2012 , by wrestling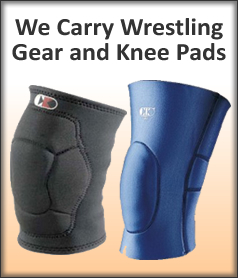 Wrestling knee pads are starting to become more and more popular every day. Knee pads are most commonly seen in volleyball, but as time goes on, other sports are starting to see its importance. Wrestlers all over have picked up on this importance. As a wrestler, I can honestly say that getting mat burn is not pleasant. After a tough match, you do not want your knees to be stinging. They help limit mat burn and provide a cushioning for your knee. With all the strains on your body in a regular match, harm to your knees is not what you want to think about. Wrestling knee pads help prevent and reduce stress put on your knees.
Importance of Wrestling Knee Pads
Having a cushioning on your knee provides great relief when going at an intense speed for six minutes. I have seen many matches where wrestlers have had to slow down and become less intense in their wrestling because they are not wearing wrestling knee pads. In many circumstances knee pads are constantly falling down. The new aK100 by Adidas provides adequate coverage and durability on the mat. It has a strong grip that sustains throughout the whole length of the match. It comes in black, which is a very popular color in the world of wrestling.
Another popular kneepad that is one of my personal favorites is the Brute Torq. It gives complete coverage of the knee and is very flexible. I know I can rely on it to carry me through a tough match. When choosing your kneepad, you want to make sure to choose a brand that is high quality and can protect from unwanted injuries. Here at Mywrestlingroom.com, you are guaranteed a kneepad that will carry you through some of the toughest moments in your career.