News & Blog
Wrestling Equipment
Posted on October 4, 2012 , by wrestling
Mywrestlingroom.com has a huge inventory of wrestling equipment, wrestling-themed apparel, and so much more. From accessories to videos, Adidas to Shock Doctor, we have your every wrestling need covered. We have you covered on cost as well – our prices can't be beat. So whether you need a new pair of wrestling shoes, a custom or pre-designed singlet, a new set of headgear, performance-fabric shirts, compression shorts, a mouth guard, a couple fresh kneepads or a technique DVD, there is really only one place to go: mywrestlingroom.com.
Wrestling equipment for any occasion!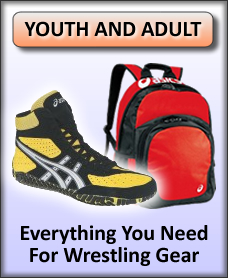 Perhaps you are new to wrestling and just need the basics: shoes, headgear, maybe a singlet or two. We have all of those in all sizes and a variety of colors and styles. Maybe you're a longtime wrestler looking to revamp your wardrobe or replace worn-down wrestling equipment and gear. In that case, we have kneepads by industry leaders Cliff Keen, Brute, and Asics, warm-ups to keep you warm pre-match, and moisture wicking practice gear for all those hours in the practice room. Perhaps you are shopping for a club or a school team: for you, we have mat wash, Kennedy skin protectant foam and customizable singlets that can be made to sport your team name and colors. Whatever you need to excel on the mat, we have it.
Despite the size of our inventory and amount of youth wrestling shoes, mywrestlingroom.com is firmly committed to high quality customer service. We know what it takes to step out on the mat against an opponent – many of us here are (or were) wrestlers ourselves. Needless to say, we only stock wrestling equipment and gear that will perform on the mat. Our gear is quality tested and comes from the best companies in the industry – Adidas, Asics, Brute, Cliff Keen, Kennedy, Matman, and Shock Doctor, to name a few. Whatever you need, we have it, and at the lowest prices available. So what are you waiting for? Stop by mywrestlingroom.com right now and get the equipment you need to wrestle at your best.