News & Blog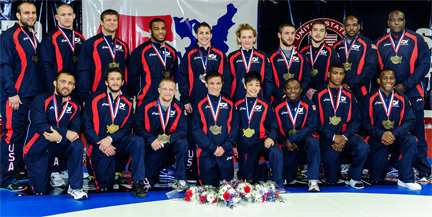 Wrestling Apparel and The 2012 Olympics
Posted on July 9, 2012 , by chris
With the 2012 Olympics fast approaching, all of the qualifying wrestlers are busy preparing to win gold medals. An integral part of their success will be the apparel they are sporting. Being a wrestler myself, I know first hand how important apparel to performing your best. There is nothing worse than warming up right before a big wrestling match and having a piece of your apparel break. Talk to any experienced wrestler and they will tell you how annoying and frustrating tearing your shoes or headgear is right before a big match. It distracts a wrestler from focusing on what matters the most: the match.
For most of the 2012 qualifiers, this will be their first time competing in the Olympics and the highlight of their careers. They will not leave anything to chance including their wrestling apparel. Every wrestler has a different preference for shoes,headgear and practice wear. Finding the right apparel is key to being a successful wrestler. Wether you are just starting out or a national champion, MyWrestlingRoom has all the best and favorite wrestling apparel.
Wrestling Apparel in the 2012 Olympics Pre-Match Warm Up
The pre match warm up is one of the key drivers to performing at your highest level. A good warm up will get your blood flowing and your body ready for the grueling 7 minute match. What you wear when you warm up can greatly dictate how beneficial the warmup is. Wearing the right warmup apparel will reduce muscle fatigue as well as reduce moisture to maximize comfortability. It will be interesting to see what the 2012 Olympic wrestlers will be warming up in as there are many new and advanced warm up apparel on the market. Two poplar choices among the U.S. Freestyle Olympic team are the Asics Compression Shorts and the Cliff Keen MSX Short Sleeve Shirt. Let MyWrestlingRoom help you find the best warm up gear on the market!