News & Blog
Summer Wrestling Camp
Posted on January 16, 2012 , by junowebdesign
Although we've only just started the new year, it might be wise to consider what you are going to do during the summer break.
If you are a keen wrestler and old hand at the sport, or just beginning, a great place to spend a week of your holidays is at summer camp.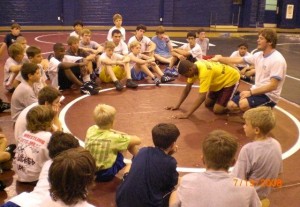 Camps not only provides a break from school life and family, they are a great place to meet new friends and take part in activities that you really enjoy.
A wrestling camp can provide a few days or a few weeks of fitness and skills as well as training and techniques.
Not only will you find camps, but wrestling clinics, which tend to be one or two days, the following are a list of camps and clinics taking place this year:
USA Wrestling Development Camps
Big Brother & Future Freestyle Camps
March 18-25, 2012 - Colorado Springs, CO
FILA Junior Worlds Team Trials/Training Camp
May 21-26, 2012 - Team Trials in Franklin, IN
2016 Junior Olympic Training Camp
July 1 - 8, 2012 - Colorado Springs, CO
Coaches Education Clinics
Bronze Clinics
01/14/2012 - San Diego, California
01/14/2012 - Monroe, Washington
01/15/2012 - Dallas, Georgia
01/15/2012 - Carthage, Missouri
01/22/2012 - Beresford, South Dakota
01/28/2012 - Spokane, Washington
02/06/2012 - WEBINAR
03/24/2012 - Battle Ground, Washington
04/28/2012 - Pasco, Washington
05/05/2012 - Snohomish, Washington
05/12/2012 - Centralia, Washington
Copper Clinics
01/11/2012 - Iowa City, Iowa
01/23/2012 - Barstow, California
01/28/2012 - Cedar Falls, Iowa
Silver Clinics
04/18/2012 - Iowa City, Iowa
Finally you will find wrestling camps in these areas with the biggest teams and most incredible coaches:
Ohio State Wrestling Camps
Train with the Buckeyes in 2012. Ten camps will be offered, including Champion Builder Training Camp, Team Duals Camp, Technique Camp, Intensive Camp, and the Heavyweight Camp.
Ken Chertow's Gold Medal Training Camps
Camps available throughout the country. Multi week options with personalized curriculum. Elite training for dedicated wrestlers.
Granby System Wrestling
We are nationally known for our bottomwork, and our ability to teach everything about the Granby series. However, we do the same with takedowns and topwork. We offer over 20 camps available across the country.
Granby School of Wrestling
Over the last 10 years, 60 state team titles have been won by teams using our series. We offer Team Camps, Technique Camps, and Youth Camps available at several locations in Virginia an Missouri.
Bruce Baumgartner World Class Wrestling Camps
15 Great Wrestling camps will be offered in 2012, including Team Camps, Technique Camps, Training Camps, Takedown & Turns Camp, and Heavyweight Camps.
George Sport Tours
GO WRESTLE IN EUROPE with George Camps 20 years experience, 20 different countries The Best Wrestling International Experience
Eternal Warrior Wrestling
The Eternal Warrior Wrestling Camp in Trego, Montana is a grueling 15 day intensive wrestling camp that challenges you to exceed your potential in all areas: physically, mentally, and spiritually. Our campers endure a rigorous training schedule with both wrestling and wilderness cross training sessions. Our schedule is designed to maximize every aspect of training and no time is wasted. We do more in a day than most camps do in three days!