News & Blog
Singlets for Wrestling
Posted on September 6, 2012 , by wrestling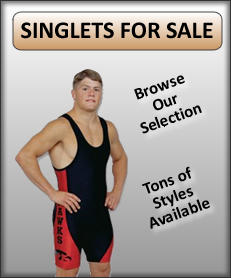 When choosing singlets for wrestling, you are presented with many options. In wrestling, a singlet becomes a part of who you are as a wrestler. It tells of the team you are wrestling for, and basically becomes a part of your body since is skin tight. Mywrestlingroom.com strives to help you choose what type of singlet you choose to wear every match. You are able to select your favorite from a variety of singlets. If choosing a brand singlet isn't enough for you, you have the option to customize. One of our most popular singlets for wrestling is the Asics Conquest Wrestling Singlet. This singlet comes in four different colors, with white stripes traveling all over it. If this singlet is not for you, we have many more to choose from.
Singlets for Wrestling in All Different Colors
What makes singlets for wrestling so interesting are all the different types of colors you are able to choose from. The top five most popular colors happen to be white, black, navy blue, royal blue, and red. Having different colors for singlets allows your team, or yourself individually, to distinguish yourself from the opponent. Maybe wearing a certain color such as black represents relentlessness, and red represents perseverance. Perhaps white represents desire to win. No matter what you look to represent, Mywrestlingroom.com gives you many choices.
At Pennsylvania State University, navy blue is their choice of color. It is a very sleek and modern look that any team would proudly wear. Many wrestling teams aspire to wrestle like the Penn State team. Just by wearing their singlet, you find yourself rising to a higher degree of wrestling. If you want to sport a navy blue singlet, or any other color for that matter, Mywrestlingroom.com presents you with all different wrestling singlets options.