News & Blog
Rocketeers Rocking Out
Posted on December 22, 2011 , by junowebdesign
The North Attleboro High Wrestling Team are stomping their way forward 300 victories unbeaten as they took down the Oliver Ames in a Hockomock League Victory which finished 59-16.
Shane LeBlanc (120 pounds), Austin Renzi (152) and Michael Anderson (285) lead the charge for the Attleboro's victory, taking themselves and their team to and undefeated record and season of 8-0.
North Attleboro 59, Oliver Ames 16: 285-Michael Anderson (NA) def. Briggs 6-4; 106-Steve Hathaway (NA) pinned Gober, 3:57; 113-Cam Burns (NA) def. Keegan, 9-4; 120-Shane LeBlanc pinned Ness 1:13; 126-Andrew McLaughlin (NA) pinned Dixon 3:33; 132-John David (NA) by forfeit; 138-Jimmy David (NA) pinned Bruno 4:39; 145-Stern (OA) pinned Chris Hunter 5:58; 152-Austin Renzi (NA_) pinned Berkzsa 1:50; 160-Dan Kummer (NA) def. Servello 15-0; 170-Tom Eustis (NA) pinned Brooks 1:07; 182-Harding (OA) def. Peter Kummer 14-5; 195-Bobby Deveau (NA) by forfeit; 220-McCabe (OA) by forfeit.
The Rocketeers will go to Canton on Thursday.
Canton who are on fine form as they defeated Foxboro in the Hockomock League will be looking forward to their encounter with Attleboro as they try and cause an upset with in the barracks of the Rocketeers stronghold.  Canton players are optimistic about their visitors, feeling they have a good chance to cause a disturbance, due to how they fight and how they've been winning.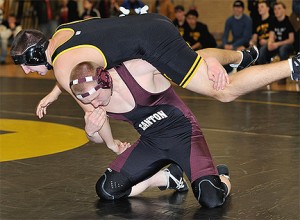 Canton 38, Foxboro 24: 106-Derek Haas (C) pinned Erika Snow; 113-Chris Sullivan (C) pinned Parker Feldman; 120-Quinn Merrigan (C) def. Jake Dorman, 3-0; 126-Robert DiCallajero (C) def. Tim Dure by tech fall; 132-David Rosenberg (C) pinned John O'Neill; 138-Jon Coleman (F) pinned Anthony Ross, 0:25; 145-Matt Marino (F) won by forfeit; 152-Jimmy Stevens (F) won by forfeit; 160-Josh Mat (C) pinned Brandon Ryan; 170-Chris Parsons (C) pinned Kyle Valenzola; 182-Jack Schoener (F) pinned Pat Vartanian; 195-No contest; 220-No contest; Heavyweight-No contest.