News & Blog
Olympic Team for 2012
Posted on April 23, 2012 , by junowebdesign
The US Olympic Team Wrestling trials took place this weekend, with Iowa hosting the action packed weekend. There were highs and lows for many of the wrestlers involved, but the Olympic team for 2012 has now been named.The 220 strong field of wrestlers was whittled down to just 18 who will be competing in this summer's Olympic games.
The men include Jake Herbert, Jared Frayer, Tervel Dlagnev, Ben Proviso, and Sam Hazewinkel. Ellis Coleman, better known for his unorthodox 'Flying Squirrel' move also made the team, and is keen to prove himself come the summer.
Though he didn't need to break out his trademark move during the competition, he still beat top seeded Betterman to earn his spot. The 'Flying Squirrel' was made famous when he did a standing flip over his opponent, grabbed him by the waist and tossed him onto the mat at last year's Junior World Championships.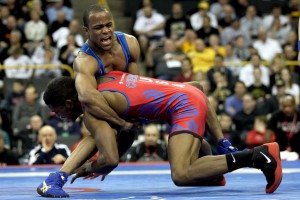 Coleman said, "People are like, 'Oh, you're the Flying Squirrel. You're just a kid who just hits a flip and is a Youtube sensation." Now, however, he says, "There's a little more grit, a little bit more technique, a little bit more agility and just more versatile human being back there. I like to have that to back it up."
The ladies who qualified for the 2012 Olympic team included Clarissa Chun, who competed at the 2008 Games, as well as first-timer Elena Pirozhkova. Kelsey Campbell will also be jetting to England in the summer, as she beat the top seed Helen Maroulis to earn her place.
Campbell first took up wrestling as a bet, that she wouldn't last two weeks when wrestling against the boys, but surprised herself by qualifying for the 2012 team. She commented, "Did this just happen? Did you all see that happen? It's unreal. There are not words to describe what I'm feeling."
While some were more excited than others, seasoned Olympiads greeting their wins with smiles and shrugs, this is the first step to becoming an Olympic champion, which would be the height of any career.
From first timers to seasoned pros, we're looking forward to seeing what happens this summer in London.