News & Blog
Men's Wrestling Shoes
Posted on December 2, 2012 , by wrestling
By the time you buy your singlets, shoes, apparel, protective equipment, headgear, and knee pads, wrestling can add up to be a very expensive sport. Luckily, places like The Wrestling Room aim to keep prices down for wrestlers needing high quality wrestling apparel and equipment. When it comes to mens wrestling shoes and apparel, they offer one of the biggest selections available online or in stores. The owner and founder, Christopher E. Lenzi, a former NCAA wrestler, started his company with the mission to provide the finest quality wrestling items at the best prices, knowing firsthand how expensive wrestling apparel can be. Customers return again and again to take advantage of the deals on mens wrestling shoes and apparel.
Our Men's Wrestling Shoes Selection Is Vast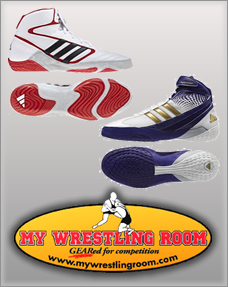 My Wrestling Room caters to a wide range of clientele, which include children and adults. Whether you are competing at the high school, college, or professional level, we have gear that will keep you protected and looking sharp on the mat. Another main reason why customers return to us time and time again is because we are convenient. Large sporting good stores have to cater to every sport, leaving them little space for items specific to wrestling. Therefore, folks find themselves having to search three or four different sporting good stores to find the specialty wrestling item they are looking for such as new wrestling shoes. My Wrestling Room caters only to wrestlers and only provides you with relevant inventory. Customers have 30 days to return unworn and unused items if they are not pleased with their purchase.
The Wrestling Room offers mens wrestling shoes products from brands such as Adidas, Champion Productions, Kennedy, Asics, Cliff Keen, and Shock Doctor. We are all about giving our customers options. In our inventory, we carry a huge selection of different sizes and styles to accommodate to most wrestlers.