News & Blog
Make your home a wrestling home for Christmas
Posted on December 21, 2011 , by junowebdesign
You've got the tree up, you've hung up the lights and tinsel, there just seems to be a couple of things missing.
How do you make your home feel like a wrestling Christmas paradise this season?  You could place a mat down in your living room, but then it might take up space and be an eye sore.  You could make everyone dress up in signlets, but during this time of year you heating bill could go through the roof to make sure everyone is warm enough.
The best way to get your home feeling and looking like Christmas is to get some wrestling ornaments that will turn your bog standard Christmas tree into a decoration of proportions that signifies the sport you love.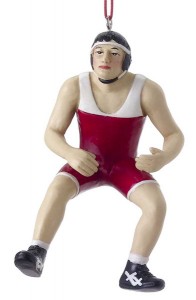 Not many shops will have these specially made Christmas ornaments in stock, so you will have to look for them online.
With many different ranges and styles they all add a different dimension to your room and the tree you hang them on.
Even after Christmas has passed and done with, there is no need to store these ornaments away in your attic until, you can always have them hanging on another tree or standing up on your fire piece as decoration.
These decorations are also good to use if someone is having a birthday party and you would like to add a bit of humour to the occasion, or if your sports team is having a social and you would like to show spirit to the club.
There are different ones to choose from that can come in many varieties, that you can buy to look like the important people in your life that take up this sport.  These unique wrestling ornaments will look great on your Christmas tree, or you can give them to your friends as gifts.