News & Blog
Lucha Libre
Posted on February 9, 2012 , by junowebdesign
A Couple of weeks back the team at My Wrestling Room, took a look at the different wrestling styles across the globe. Today we head to Mexico, the home of Lucha Libre.
Mexican Wrestling or Lucha Libre as it's known, which translates to "free fight" is freestyle wrestling without the restraints of Greco- Roman Wrestling.
Mexico really pushes the boat out when it comes to wrestling, with bright colorful masks and capes and some incredible high flying moves, some of which have been adopted in the United States. This sequence of fast maneuvers really gets the crowds going and the atmosphere is electric.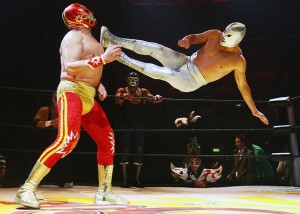 In the 1900s, professional wrestling was a bit of a myth in Mexico, but in the following decades it became more prominant with the help of television. In 1942 the world of Lucha Libre would change forever when a wrestler stepped into the ring sporting a glorious silver mask, his name was El Santo- The Saint. He made history by winning an 8 match battle royale!
Lucha Libre style of wrestling is more agile and wrestlers tend to bounce themselves off the ropes of the ring and fly towards one another, rather than start with grappling.
The use of masks dates back to the Aztec period. They have great significance and many of the modern masks will represent gods and icons. Every wrestler will start with a mask and possibly at some point in their career be un-masked, especially when they retire.Loosing a mask to another opponent is literally the ultimate insult and can really damage a wrestlers career.
There is a lot of drama in Lucha Libre, some of the wrestlers are seen as characters such as tough guys and rude guys, who will bend the rules of the wrestling match in the name of entertainment.
My Wrestling Room.