News & Blog
Headgear For Wrestling
Posted on August 29, 2012 , by wrestling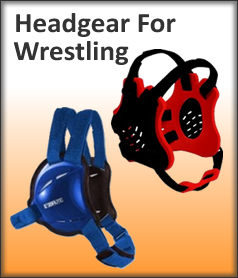 Are you looking for headgear for wrestling? Wrestling headgear comes in many shapes and sizes. Some are round, others triangular. Some are made of plastic, others rubber, and still others are covered in fabric. Some have two straps, others three. Some are gel-filled. But which is right for you? Headgear is an essential piece of equipment for any wrestler. It protects your ears against the constant friction that wrestling can entail, preventing damage to the delicate cartilage of your ear. Over time, friction damage to the ear can cause a condition known as cauliflower ear. Cauliflower ear is a swelling of the soft tissue and is often seen in wrestlers who don't wear headgear for wrestling.
It is important to wear headgear for wrestling...
Headgear comes in a variety of materials and styles. Which is right for you? Round headgear is the classic style, and has served wrestlers for generations. The more triangular styles are newer technology that some wrestlers feel fit on the head a little better. In terms of material, wrestlers who use fabric headgear find it more comfortable, whereas rubber and plastic headgear is simpler and much easier to clean. The number of straps is mostly aesthetic, but can have a bearing on the fit of the gear. Headgear is adjustable and generally one size fits all, but some styles do come in a youth size.
At mywrestlingroom.com, we have an excellent selection of headgear from brands including Brute, Asics, Adidas, and Matman. We carry the popular Tornado, Quad, and Response brands in a variety of colors. As always, our commitment to low prices means that you won't find headgear cheaper anywhere on the web. As a bonus, you can have your headgear shipped quickly and reliably to your doorstep. So get protected. Get headgear for wrestling at mywrestlingroom.com today.