News & Blog
Exercise to win
Posted on February 8, 2012 , by junowebdesign
During training and the coaching of wrestling, there may be quite a few different ways and skills that wrestlers use to improve fitness, from simple running, to balance and footwork exercises.
Today we're taking a look at a fitness regime which is used the world over by professionals such as the Police, to top athletes in a bid to keep fit, improve endurance and core strength.
This exercise regime is an amazing short blast and people tend to train from 10 to 20 minutes. This enables the body to run at a point where your heart rate is steady and burns calories consistently. But its not about the calories, its about the strength you gain from such an intense workout. This exercise is called Crossfit.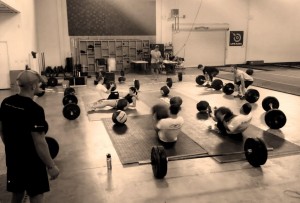 Crossfit came about initially in the 1970s, although back then, it was only an idea of an American gymnast. By 2001 Crossfit.com was launched and so was a programme of workouts, then in 2007, the American Marines took on Crossfit as part of their training programme.
Today Crossfit is incredibly popular, one because it is a relatively short workout, two because it improves health and fitness and three, because the results are incredible.
Wrestlers can use this type of training to improve their stance, their stamina, their balance and their core strength on the mat. Being such a short blast of exercise, it is the perfect thing to do every day and you can get it done in the morning before high school or college or in the evening. You could even start a Crossfit challenge between your wrestling team.
Take a look and see if there are any Crossfit classes or gyms near you, go along and learn the basics of this incredible workout and use Crossfit exercise to help you win.
There are so many ways to improve fitness, but we think Crossfit is a brilliant way to cover all elements.
My Wrestling Room